Global inflationary trends influence patterns of cargo crime
The latest Annual Cargo Theft Report for 2022 from partners TT Club, TAPA EMEA and BSI SCREEN Intelligence shows an overall decline in global incidents over the previous year but with increasing emphasis on basic goods, food and beverages, fuel and auto parts linked to the inflationary effect on the value of such items.  Theft of high value electronics remains constant.
As in the past the united trend analysis and experience of the three organisations, international freight insurer TT Club, the Transported Asset Protection Association's Europe, Middle East & Africa region (TAPA EMEA), and BSI, the business improvement and standards consultants, supply concerted insight to the changing dynamics of cargo theft around the world. The 2022 Cargo Theft Report reflects this strength of observational data and comprehensive incident reporting.
 The salient conclusions of this year's report are:
Consistent level of theft from facilities
Increase in container and trailer theft
Global reduction in hijackings
Easing of international losses from unsecured parking and from areas adjacent to port facilities
Inflationary trends effect black market demand for more basic goods
Food and beverages, auto parts and fuel all increasingly targeted
High-end electronics remain a frequent target
The over-arching trend is for criminals to adapt to inflation and lessened port congestion and evolve more fraudulent methods of targeting specific goods. "Our report explores these themes in more detail by way of case studies that look at how social unrest in Latin America, particularly Chile, Peru and Brazil, has provided a weakness exploited by thieves," points out Mike Yarwood, MD Loss Prevention at TT. "Also, how in South Asia crime involving fraudulent practices, like fictitious pickups to target cargo, are manifest."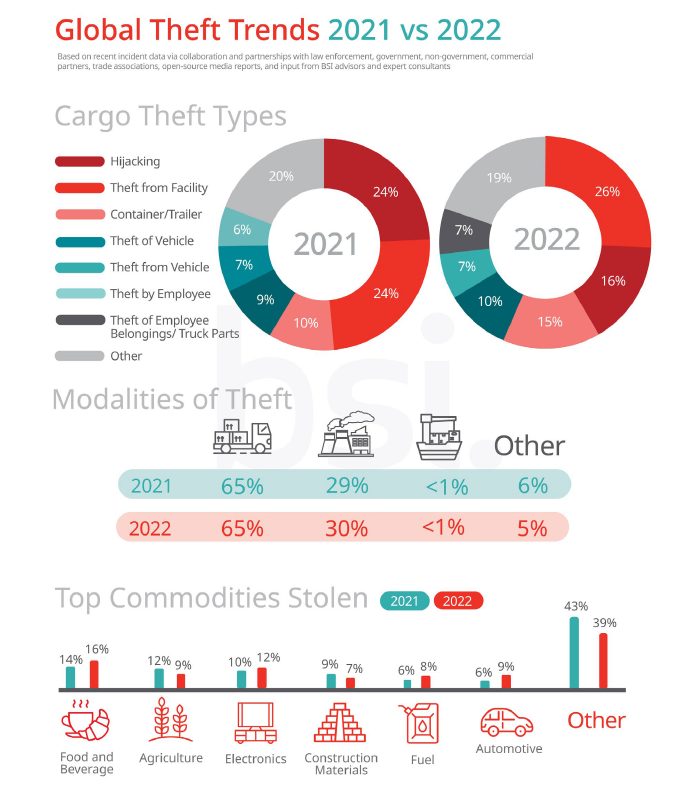 Of the increases in various types of commodities stolen, as illustrated above, TAPA EMEA identified a significant year-on-year rise in the number of fuel thefts recorded in the region, one of the most prominent trends recorded. "This is clearly driven by the impact of the war in Ukraine on global oil prices and the cost-of-living crisis affecting consumers in many countries. We gathered intelligence on fuel losses in 28 countries across EMEA, but mostly in Germany and the United Kingdom, which accounted for 72%. Higher value fuel crimes also signalled the involvement of bigger organised crime groups, notably thefts from fuel depots," said Thorsten Neumann, President & CEO of TAPA EMEA.
Consistent with past publications, advice on steps that can be taken to mitigate the risk of theft are offered in the report. "In particular, we are keen to give guidance on how operators can combat the practice of fictious pick-ups and the threat of insider influence in cargo crime," said David Fairnie, BSI's Principal Consultant on Supply Chain Security. "Our guidelines are extensive and they can help to reduce risk and enhance the overall security and resilience of the supply chain. However, it's important to recognize that there is no one-size-fits-all approach. Each organization must develop a tailored risk management plan based on its specific risks and circumstances."
The 2022 Cargo Theft Report is available for download using the button below.
-
ENDS
About TT Club
TT Club is the established market-leading independent provider of mutual insurance and related risk management services to the international transport and logistics industry. TT Club's primary objective is to help make the industry safer and more secure. Founded in 1968, the Club has more than 1100 Members, spanning container owners and operators, ports and terminals, and logistics companies, working across maritime, road, rail, and air. TT Club is renowned for its high-quality service, in-depth industry knowledge and enduring Member loyalty. It retains more than 93% of its Members with a third of its entire membership having chosen to insure with the Club for 20 years or more.
www.ttclub.com 
Media contact:
Peter Owen
Portcare International
Tel: +44 (0)1737 248300
E-mail: info@portcare.com
About BSI
BSI is the business improvement and standards company that enables organizations to turn standards of best practice into habits of excellence, 'inspiring trust for a more resilient world'. For over a century BSI has driven best practice in organizations around the world. Working with over 77,500 clients across 195 countries, it is a truly global business with skills and experience across all sectors including automotive, aerospace, built environment, food and retail and healthcare. Through its expertise in Standards and Knowledge, Assurance Services, Regulatory Services and Consulting Services, BSI helps clients to improve their performance, grow sustainably, manage risk and ultimately become more resilient.
To learn more, please visit: www.bsigroup.com 
About BSI Supply Chain Services and Solutions
BSI Supply Chain Services and Solutions is the leading global provider of supply chain intelligence, global supply chain verification auditing services, audit compliance and risk management software solutions, and advisory services. BSI's supply chain services and solutions and services can work independently to address specific needs or combined together to gain unparalleled visibility into your global operations. Implementing BSI's holistic supply chain risk management suite provides organizations with a complete solution for a more sustainable and secure supply chain.
To learn more, please visit www.bsigroup.com/supplychain 
Media enquiries:
Lucy Stidston, BSI
Tel: +44 20 8996 6330
Email: pressoffice@bsigroup.com

About TAPA EMEA
TAPA EMEA was formed in 2000 to tackle the multi-billion euro problem of cargo thefts from supply chains. Today, it boasts over 900 member companies in the Europe, Middle East & Africa (EMEA) region, including many of the world's biggest manufacturers and logistics service providers as well as leading SME freight forwarding and transport operators, insurers, law enforcement agencies, security service providers, and other stakeholders.
TAPA EMEA is working to minimise cargo losses and increase supply chain resilience by helping its member companies top understand and manage risks. TAPA EMEA achieves this through the development and application of its global supply chain Security Standards, collating and sharing of cargo crime incident intelligence, training, networking and through its support of, and collaboration with law enforcement agencies, governmental and regulatory bodies.
For more information go to www.tapaemea.org 
Media Contact:
Jamie Roche
JRPR Ltd
Tel: +44 (0) 1753 900 902
Email: jamie@jamierochepr.co.uk