TT Talk - Persistent wildlife crime
Wildlife crime is a topic TT has profiled before, but remains a critical threat to biodiversity, local and national economies, national and international security, and global health. The global pandemic itself highlighted emerging infectious diseases, 60% of which are considered zoonotic, that is infectious diseases that are able to pass between animals and humans, and elevated discussions around the impact of wildlife crime and unregulated trade. 
The estimated cost of wildlife crime is between US$7-23 billion annually. As with many types of malpractices or deficiencies that exploit the transport industry, the trafficking of illegal wildlife is routinely completed through the legitimate global supply chain, particularly due to low awareness and pressures of throughput. So, where can the industry seek guidance?
trafficking of illegal wildlife is routinely completed through the legitimate global supply chain
International Maritime Organization (IMO) guidelines
In 2020, IMO's Facilitation Committee (FAL) agreed to develop a set of IMO guidelines focused on the risks surrounding illegal wildlife trade through the maritime supply chain following a proposal by Kenya. New guidelines were brought into existence through an informal working group including the United Nations Development Programme (UNDP), World Wildlife Foundation (WWF), Environmental Investigation Agency (EIA), TRAFFIC and United for Wildlife.
The IMO Guidelines (also referred to as FAL.5-Circ.50) aim to encourage further collaboration and coordination on an international, regional, national and port level and across all maritime supply chain counterparties in preventing and suppressing wildlife trafficking. An upcoming amendment to the FAL convention, expected later this year, will recommend that every contracting government establish a national maritime transport facilitation programme targeted at facilitating trade while combating illicit activity, including wildlife trafficking.
Red Flag Indicator Compendium and guidance
In order to raise awareness of the threats throughout the global supply chain, TRAFFIC, a leading non-governmental organisation working globally on legal and illegal trade in wild animals and plants, published 'Red Flag Indicators: for wildlife and timber trafficking in containerised sea cargo', in collaboration with the working group.
This extensive report contains practical guidance, while stating clearly the known red flags through the maritime supply chain, including species-specific red flags. It focuses on raising awareness, promoting education and disrupting the criminal networks responsible. The report also shares crucial lessons learned from the wider supply chain, aiming to create new effective barriers and a more challenging environment for criminal networks to operate.
The data within the report is derived from various publically available sources and is representative of the current threat. The wealth of analysis reveals much that is sadly common to TT's other messaging for those in the supply chain – raising awareness of corruption, practices relating to misdeclaration, concealment and fraud. Furthermore, there is detailed information about the wildlife products commonly trafficked, the ways it happens and the routes taken. Unfortunately, as with many illicit trades, the criminal organisations underpinning this activity are agile; as a result, even the most robust mitigation procedures must be closely monitored and regularly reviewed, recognising an ever changing threat landscape.
the criminal organisations underpinning [wildlife trafficking] are agile
Risks for the wider industry
In addition to the over-arching biodiversity and other global threats, illegal wildlife trade introduces risks for supply chain counterparties.
Reputational risk is difficult to evaluate. However, having your business' brand name associated in the media with the carriage of contraband will inevitably be damaging. This could be exacerbated when trading along high-risk routes carrying commodities associated with the trafficking of wildlife products – bringing into question the existence or effectiveness of due diligence procedures.
There is legal risk arising for example where companies in the transport sector have been prosecuted for having insufficient controls to ensure that shipments do not contain contraband.
Broader economic risk can be associated with delays while investigations are undertaken, potentially leading to detention of shipments and equipment.
Health and safety risk is substantial; an estimated 60% of emerging infectious diseases come from animals and approximately 72% of those come from wildlife. The movement of wildlife products risks spreading infectious disease, not only to humans but also to domestic and wild species in destination countries. The criminals involved are not focused on ensuring even minimal levels of veterinary and hygiene controls. Additionally, where live animals are transported, personnel could be exposed to poisonous and dangerous animals.
Security risk cannot be overlooked. The criminals behind wildlife trafficking actively monitor supply chains, looking to identify vulnerabilities. Any weaknesses discovered will be exploited, almost certainly extending to other illicit trades or theft. 
Steps for prevention
The Red Flag Indicator report includes a list of preventative measures. Here we highlight a non-exhaustive selection of practical steps to mitigate the risk of wildlife trafficking.
Risk assess your supply chain, identifying areas that might be vulnerable to illegal wildlife trade.
Develop and implement a zero-tolerance wildlife crime policy, including clear guidelines and procedures for employees, suppliers and other stakeholders to follow in mitigation of the risks of illegal wildlife products.
Conduct due diligence on suppliers, counterparties (know your customer), and new employees. Extend searches to include any prior involvement in wildlife crime and ensure that suppliers have policies and procedures in place to prevent illegal trade.
Establish traceability, consider general implementation of technologies to trace products from source to market and to monitor the supply chain for any potential illegal activity.
Establish a confidential reporting communication channel and encourage the reporting of suspicious activity.
Educate employees and counterparties about the dangers of wildlife crime, the importance of due diligence and how to recognise and report suspicious activity.
Collaborate with law enforcement and conservation organisations, working with relevant organisations to gather information, exchange best practices and support efforts to combat wildlife crime.
Regularly review and update processes, including supply chain procedures, to ensure they remain fit for purpose and relevant. Risks through the supply chain evolve, so staying agile is important.
It is increasingly important when considering mitigation of these risks that supply chain counterparties are aware of the threat of wildlife crime and how the associated criminals exploit legitimate channels to move illegal goods. Meaningful steps can be taken to minimise the threat, protecting biodiversity and local communities.
Meaningful steps can be taken to minimise the threat, protecting biodiversity and local communities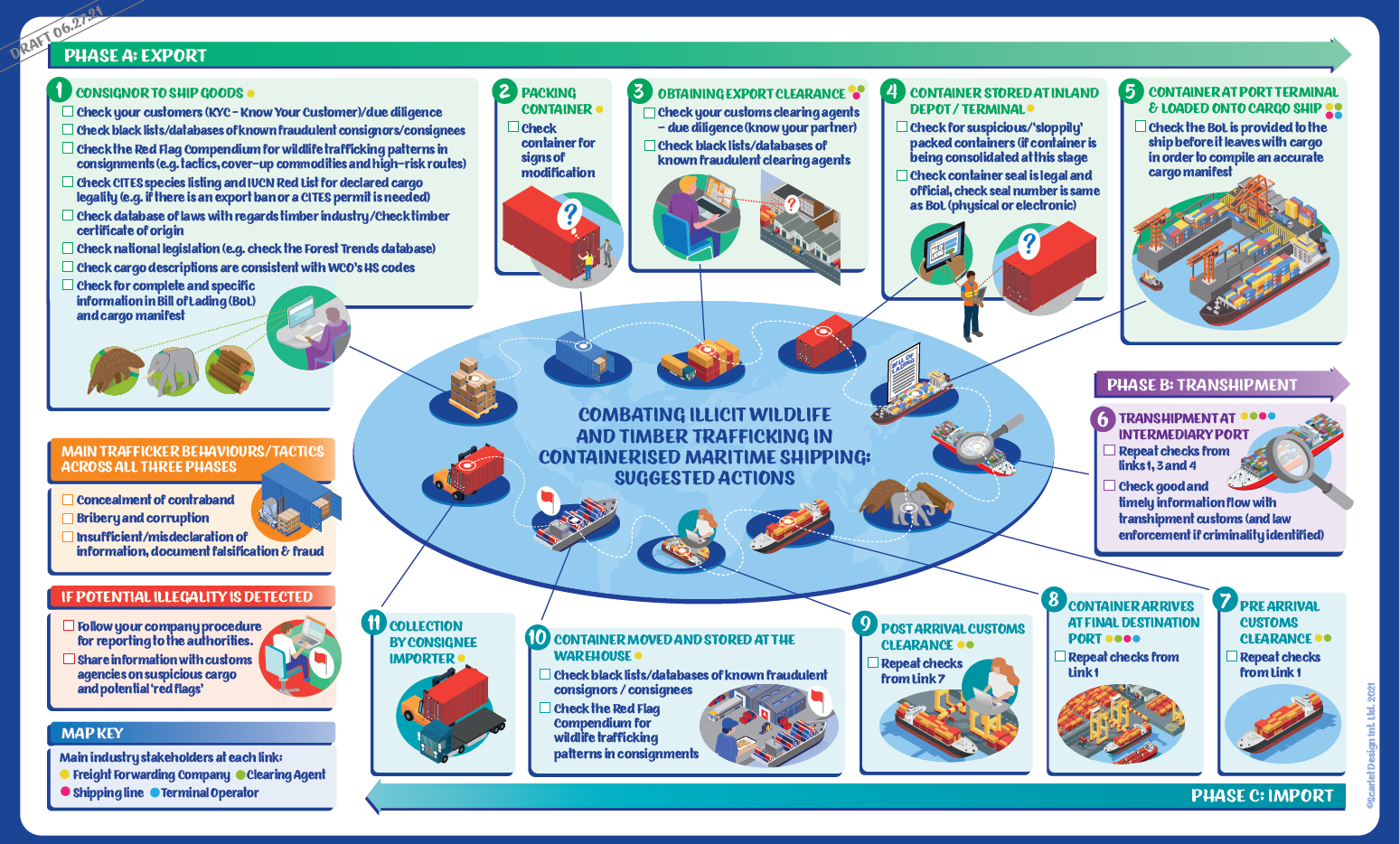 -
If you would like further information, or have any comments, please email us, or take this opportunity to forward to any others who you may feel would be interested.