Rise in differing cargo theft types driven by conditions at congested US ports
Third quarter cargo theft data in the US shows storage facilities targeted in 45% of reported cases; up from 20% of recorded cases in the same quarter in 2020. Fall in hijacking and robbery of vehicles from 67% to just 25% this year coincidental with rise in theft of cargo units in unsecured storage areas. Congestion throughout the supply chain but particularly in and around ports is a significant contributory factor to this diversification of theft types.
Freight insurance specialists, TT Club and the supply chain services and solutions team at BSI, the business improvement and standards company have highlighted the increased risk of theft from storage facilities seen over the past few months in the United States. The changes in theft patterns from the same quarter last year highlight a trend away from 'on the move' targets to those locations where cargo is temporarily stored and delivered. These locations include traditional warehouses and depots where containers and trailers are being held awaiting collection, many of which are temporary facilities in port areas without adequate security regimes. 
As the diagrammatic comparisons below show, the largest rise in the methods and locations for cargo theft was from facilities: the percentage of the total increasing to 25% in the third quarter this year in contrast with just 7% in 2020. At the other extreme theft of vehicles fell from a dominant 47% in 2020 to a surprisingly low 15%; in addition, hijackings halved from 20% to 10%.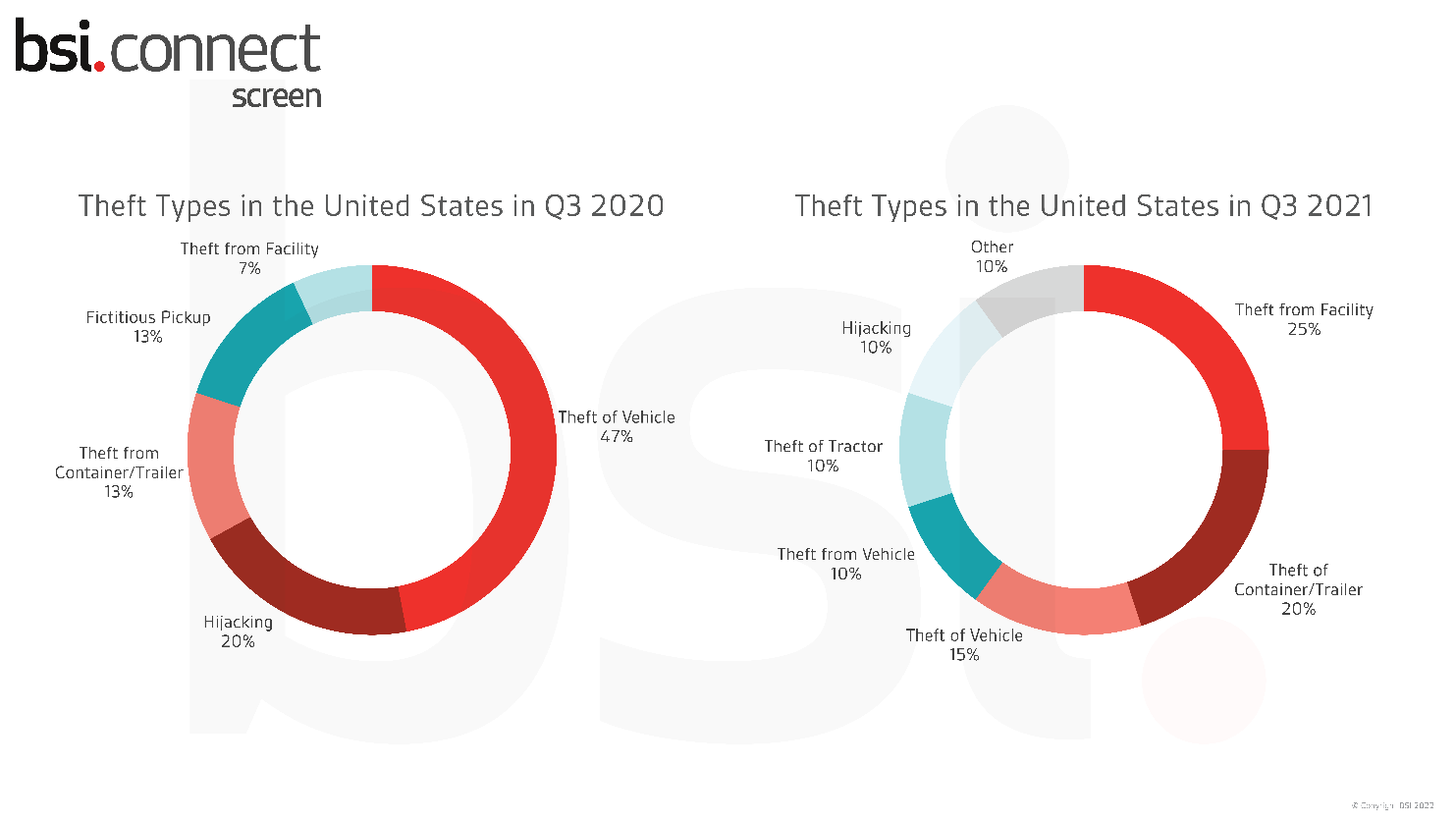 Please note the more prevalent types of theft for each quarter are indicated by the 'hotter' colours in the illustration above
In commenting on some of the more contrasting figures, Mike Yarwood, TT Club's Managing Director, Loss Prevention said, "The is little doubt that the problems of supply chain disruption that are currently bedevilling the US freight transport system, particularly that of container congestion at ports and inland hubs, is creating increased opportunities for thieves. The static nature of cargo in these circumstances, often stored in temporary and less secure facilities, leads to criminal ingenuity adapting the modus operandi of theft in a typically resourceful way."
TT is keen to use the insightful data provided by BSI Screen in identifying sifts in cargo theft trends and bring them to the attention of operators in as timely as a fashion as possible. Those concerned with risk management in the supply chain both in the US and throughout the world should be aware of such patterns and hopefully take measures to reduce losses, costs and insurance claims.  
TT is committed to providing resources to help supply chain stakeholders to enact such mitigating measures. Yarwood explains, "Whatever the location and means of cargo theft such incidents can often be averted through straightforward due diligence, management processes and employee vetting and training." To this end, TT has a webpage dedicated to advice on improving supply chain security.
About TT Club
TT Club is the established market-leading independent provider of mutual insurance and related risk management services to the international transport and logistics industry. TT Club's primary objective is to help make the industry safer and more secure. Founded in 1968, the Club has more than 1100 Members, spanning container owners and operators, ports and terminals, and logistics companies, working across maritime, road, rail, and air. TT Club is renowned for its high-quality service, in-depth industry knowledge and enduring Member loyalty. It retains more than 93% of its Members with a third of its entire membership having chosen to insure with the Club for 20 years or more.   
Media contact
Peter Owen
Portcare International
Tel: +44 (0)1737 248300
E-mail: info@portcare.com
About BSI 
BSI is the business improvement and standards company that enables organizations to turn standards of best practice into habits of excellence, 'inspiring trust for a more resilient world'. For over a century BSI has driven best practice in organizations around the world. Working with over 77,500 clients across 195 countries, it is a truly global business with skills and experience across all sectors including automotive, aerospace, built environment, food and retail and healthcare. Through its expertise in Standards and Knowledge, Assurance Services, Regulatory Services and Consulting Services, BSI helps clients to improve their performance, grow sustainably, manage risk and ultimately become more resilient. 
To learn more, please visit: www.bsigroup.com
About BSI Supply Chain Services and Solutions
BSI Supply Chain Services and Solutions is the leading global provider of supply chain intelligence, global supply chain verification auditing services, audit compliance and risk management software solutions, and advisory services. BSI's supply chain services and solutions and services can work independently to address specific needs or combined together to gain unparalleled visibility into your global operations. Implementing BSI's holistic supply chain risk management suite provides organizations with a complete solution for a more sustainable and secure supply chain. To learn more, please visit www.bsigroup.com/supplychain
Media enquiries
Lucy Stidston, BSI
Tel: +44 20 8996 6330 
Email: pressoffice@bsigroup.com